Google celebrates Tea Drinking in the UK's 385th anniversary with a Google Doodle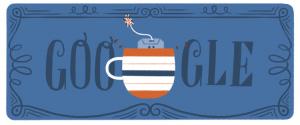 Article by: Google
Thursday 6th October 2016
In 1658 the first advert for tea in England appeared on September 23 and this anniversary is being celebrated by Google with one of its hallowed Google Doodle illustrations.
The Google Doodle is an artistic version of the Google logo and is created to represent significant events, holidays and anniversaries. To celebrate the arrival of the 'China Drink', as the advert called it, Google's logo features teacups of all shapes, colours and sizes and details the many ways to take your tea from two sugars to a dollop of honey.
It is not known when the first cup of tea was enjoyed in the UK so the advert of 1658 is marked as a reliable starting point in the history of tea in Britain. Two years later in 1660 diarist and English Naval Administrator Samuel Pepys wrote about drinking tea while British coffee shops were selling tea in the 17th century, billed as an expensive, upper-class pursuit. However, by the mid 18th century tea became Britain's most popular beverage, replacing gin and ale.
By the 19th century, The East India Company was using fast ships known as tea clippers to transport leaves from India and China to England. The only surviving clipper of its kind is the Cutty Sark which resides in Greenwich, London.
As tea became more readily available, dedicated tea shops began appearing throughout Britain and remain today as a favourite destination for socialising as well as for conducting business in.
Click here to read more about the tea Google Doodle.
Image credits:
1) Screen grab from Google Doodle