Here's to a healthy New Year
Article by: Alex Fullerton
Monday 8th January 2018
It's that time of year again. After eating your body weight in roast potatoes and almost drowning in mulled wine, your digestive system is crying out for a rest. Come January our thoughts turn to diets and detox. Dozens of drinks on the market claim to get toxins out of our bodies, but there is lively dispute about whether they actually do us any good. Instead of reaching for a foul-flavoured brew a simple cuppa can be just as beneficial in helping you have a healthy New Year - whatever your New Year's Diet resolution may be.
The plan is to cut out caffeine
Knocking your tea habit on it's head isn't the way to cut down. Sticking to 4 cups per day means you shouldn't go hyper, but the small amount of caffeine present has been proven to keep your concentration on track, leading to sharper work performances. According to the British Nutrition Foundation, a moderate amount of caffeine in your diet means you'll also benefit from reduced levels of tiredness, better short-term memory and more positive moods. What a result!
I'm going to switch to green tea
There's no need. Black and green teas are both bursting with antioxidants which help protect your body from free radicals (rogue molecules that damage your cells and contribute to everything from speeding up the aging process and causing cancer). Whether you brew black or green is up to your tastebuds. Both types of tea have significantly higher antioxidant levels than fruit and herbal versions.
I need to cut back on calories
Counting your calories? Don't blame tea. Drunk with no additions a cuppa will give you the grand total of zero kcals. Instead, make changes to what you add to your mug. Nutrition consultant Lynne Garton offers some advice. "If you drink three cups a day, making the change from full fat to semi-skimmed milk cuts out 21 kcals per day. Over a year this equals to more than 2 lbs of weight loss." For more dramatic results, Lynne reveals that "if you can stop adding 2 heaped teaspoons of sugar to each of those three cups, at the end of the year the resulting weight loss would be 15 lbs." Still craving a sweet drink? Steer clear of honey, its just as calorific as sugar. Instead, Lynne suggests a no-calorie sweeterner but warns "some sweeteners still contain calories". And while black tea with a slice of lemon is a virtuous, no-cal choice, Lynne doesn't recommend drinking all your tea this way, reminding us that "tea with milk is an important source of calcium".
My goal is to drink more water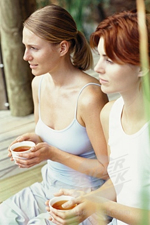 There's no need to banish tea from your routine - the liquid in a cuppa will rehydrate your body as effectively as a glass of water and it's a lot tastier too! While getting the 1.5 - 2 litre recommended amount solely from water might be fine for a hot summer day, you can still reach your liquid target by quaffing tea. Drinking hot fluids will help keep your body warm too - vital during the current icy snap.
I want to cut out unnecessary additives
Tea is the ultimate drink if you want to purge your diet of preservaties. The leaves that go into your cuppa are simply packed and dried (depending on the final blend they may be steam-treated or lightly roasted for flavour) but there is no need for any chemical nasties to be added because the leaves contain so much natural goodness already.