Tea is a better pairing for cheese than wine, says expert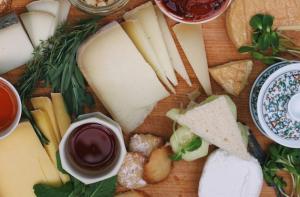 Article by: UKTIA
Thursday 23rd February 2017
Mike Leigh's Abigail's Party immortalised the cheese and wine parties of the aspirational middle classes in the 70s. Today, a tea expert claims that 2017's trend should be cheese and tea parties.
A full-bodied glass of red accompanying a great wedge of Stilton is one of life's great pleasure for many. However, food and drink expert Rachel Safko of luxury experience firm IfOnly suggest that tea's complex properties are a much better match for cheese than wine.
Safko credits tea's many different personalities as the reason behind the brilliant pairing. 'Like wine, teas have varying degrees of tannin along with a natural astringency: a dryness and feeling that isn't quite bitter or sour, but more like the pleasant tartness and pucker you might get from tasting a lemon or pomegranate', Safko explains, speaking to Forbes. 'Cheese - in its infinite glory - offers a nice balance to that astringency. The fatty, creamy unami that most of us go bonkers for in cheese helps round out the bite of more astringent teas.'
But which teas and cheeses make the best marriages? Green teas are great lovers of fresh goat cheeses or triple-creme cheeses. 'The crisp, bright, vegetal elegant quality of a Japanese sencha, for example, complements a classic goat cheese, which has a spring-like, grassy quality as well as depth and body when nibbled alongside green tea.'
Safko also recommends trying the crisp and 'lemony first flush' of darjeeling with brie and cucumber sandwiches, hailing it as 'the champagne of tea' while 'smoky lapsang souchong or velvety keemun are both dynamite with blue cheeses, partly because the salt and creaminess in the cheese play off the sweetness and darker depths of the tea', the tea specialist and sommelier explains.
Better start planning that cheese and tea party then.
Image Credits:
1) IfOnly - a marketplace for incredible experiences