Tea - the perfect Christmas gift!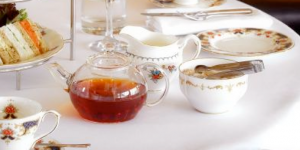 Article by: Irene Gorman
Tuesday 21st November 2017
Yes, Christmas is only weeks away now and suddenly we are all feverishly planning and compiling Christmas present lists for our loved ones and friends asking ourselves the same questions we ask each year; "what would my mother/mother-in-law/brother like, "what would my son and daughter like and "what on earth do we give our best friends and work colleagues?"
Well, here are some suggestions which are quick and easy to organize:
Book a glorious Afternoon Tea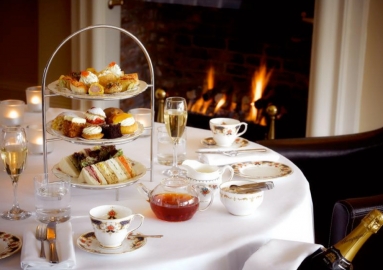 Book a glorious afternoon tea and enjoy a leisurely and lovely catch up, delicious tea and wonderful festive food, often enjoyed with a glass of champagne, in your favourite hotel or tea room. Spending time with loved ones in a delightfully decorated venue complete with Christmas tree and often accompanied by a pianist or harpist playing carols creates a truly warm, relaxed and happy atmosphere. Many city and country hotels may have carol singing choirs entertaining guests during the festive period and remember not to forget the children either as many venues offer special Children's Afternoon Teas.
Have a look at The Tea List section on our website and click onto "search" and "choose a Tea Category" and pick either Hotels, Tea Rooms or Restaurants to find a venue near you.
Here are just a few tea room venues for you to consider – Betty's, Harlow Carr; Harrogate; Ilkley; Northallerton; York and Stonegate, York; Davenports Tea Room, Cheshire; Peacocks, Ely, Cambs; Priory House Tearooms, Dunstable and Gillams Tearoom, Ulverston.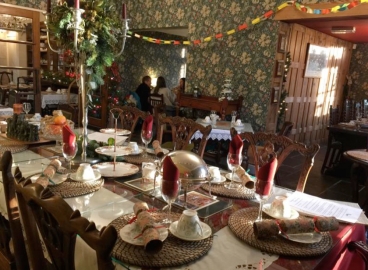 To enjoy a delicious hotel afternoon tea consider visiting The Angel Hotel, Abergavenny; The Montagu Arms in Beaulieu; Great Fosters, Egham, Surrey; The Lowry, Manchester; Pennyhill Park Hotel, Bagshot, Surrey; and in London, The Corinthia; The InterContinental Park Lane; The Goring; Claridges; The Dorchester; The Rosewood; The Ritz and The Montague on the Gardens and Brown's Hotel to name but a few.
And, if you can't get a reservation before Christmas a voucher which can be enjoyed after the New Year will still be the most welcome and cheering of gifts. After all, Afternoon Tea is a year round treat!
Giving an Afternoon Tea Voucher will be a much appreciated gift.
So very easy to do, just visit your chosen venue's website and choose a gift voucher - there will often be a selection to choose from offering different afternoon teas at different prices
Choose to give Tea as a Christmas Gift
Most tea companies, large and small sell a terrific selection of their teas online or by telephone. To view details of their websites do visit "The Tea List" on our website (www.tea.co.uk) and see "select a category", click here and scroll to "all businesses".Please see below images of just a few tea companies and by clicking on their image you will be taken directly to their Tea List entry complete with contact details.
You will find a fabulous selection of teas here, both traditional teas and new speciality varieties plus, of course, ever popular infusions to choose from with many attractively presented gift options including personalized "pick and mix" tea boxes available.
Remember, many tea rooms and hotels also sell teas and there is truly a tea to suit all tastes!
So, there you are, you can sit back in the comfort of your own home and place your order - no fighting your way through busy crowds trying to find a sales person to serve you. Click, click and tick, tick and easy-peasy that's your Christmas Shopping done!
Have a wonderful Christmas.