The Tea Tavern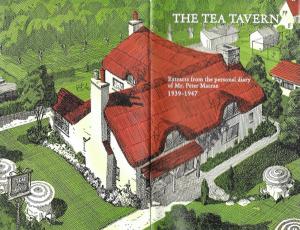 Extracts from the personal diary of Mr Peter Macrae 1939-1947
What was it like to run a tea tavern in rural England in the 30s and 40s?
Thanks to the discovery of a charming diary by proprietor Peter Macrea, the ins and outs of struggling to turn a profit in exceptional circumstances have been laid bare and are just as relevant today as they were then.
Peter Macrea and his wife Peggy took over a roadside Tea Tavern in 1938 determined to succeed in a task in which their predecessors had failed. An original copy of Macrea's self-styled 'haphazard' writings on their journey to become efficient and effective was discovered recently in Illinois and published by the Hovis Organisation, in association with the Tea Bureau, to share with owners of roadside cafes and Tea Taverns to provide advice and assistance.
But Macrea's thoughts and methods in dealing with production and service, shutting up shop in September 1939 until Macrea returned from Territorial Army activities in 1946, provide a glorious working insight not just for tea proprietors but for anyone who enjoys tales of struggle and success.
We have attached The Tea Tavern here for you to read in all its glory.