Tea & Herbal Infusions Europe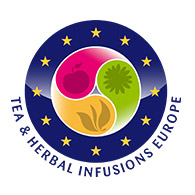 Tea & Herbal Infusions Europe (THIE) is the European association representing the interests of producers and traders of tea (Camellia sinensis) and herbal infusions as well as extracts thereof in the EU.
The main objectives of the association are to establish a common European policy with regard to tea and herbal infusions and to make contact with EU-officials and representatives of other organisations and to collaborate constructively with them in any matter related to the tea and herbal infusions trade and industry. THIE's activities focus on:
Quality assurance and food safety
Legislation, especially food law
Cooperation with tea growing countries
Nutrition
THIE was founded on 22nd January, 2015 as successor of the European Tea Committee (ETC) and the European Herbal Infusions Association (EHIA).
Its members are the national tea and herbal infusions associations from Austria, Denmark, France, Germany, Ireland, Italy, The Netherlands, Spain and the United Kingdom as well as Baliarne Obchodu Poprad Company, Slovakia. The Swiss Tea and Herbal Infusions Association is associated THIE member.
The THIE website can be found here: www.thie-online.eu