Tanzania
Tea production in Tanzania is thought to be the legacy of German colonisation under the reign of Kaiser Wilhelm II, but its real development took place under British estate ownership between the two World Wars. Tanzania now exports over 27,500 tonnes of tea annually.
These different altitudes result in distinct tea characteristics, but all Tanzanian teas are bright in colour with a brisk flavour that makes them ideal for use in blending.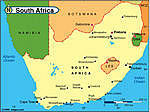 South Africa
A black cut, torn and curled tea (link to the CTC explanation) the tea factory andblack tea manufacture from KwaZulu is the only South African tea to be exported for international consumption.
The flavour is strong and lively and is best drunk with milk.



Indonesia

Tea has been part of the way of life in Indonesia for more than 200 years. Situated in the South China Sea and the Pacific Ocean, Indonesia forms an island chain stretching from Malaysia to Papua New Guinea. Java and Sumatra, two of the largest islands, are the main growing areas.
After the World War II, the Indonesian tea estates were in very poor condition. Wrecked factories and tea bushes that had reverted to their wild state were just two of the problems which faced the country.
By 1984, after a lot of hard work and investment, tea exports from Indonesia began to make their mark on thetea market. Since that time, improvement in tea production and replanting of old estates has continued, with the factories investing in new machinery. Now, Indonesia had some 121,000 hectares under tea cultivation, with 65,000 of these being on Java. In 2015, Indonesia exported over 65,000 tonnes of tea, accounting for 3.6% of world exports.
Teas from Indonesia are light and flavoursome. Most are sold for blending purposes as this produces good financial rewards through foreign exchange for the country. In recent years, however, it has become possible to buy Indonesian tea as a speciality. It is extremely refreshing taken without milk: garnished with lemon, it makes an ideal drink for the figure-conscious.
Tea from Japan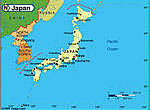 The Japanese have always been known to produce high quality green tea. The worldwide export of Japanese tea has dwindled over the past few decades, almost entirely due to price considerations, land and labour costs in Japan are comparatively more expensive than other tea growing regions in the world. Japan has 4,800 hectares planted with tea.
Sencha
The most commonly drunk tea in Japan. The dark green flat needles give a pale yellow infusion that has a light delicate flavour.
Gyokuro
Gyokuro, which means Precious Dew, is the very best of Japan's teas and is the one chosen to serve to visitors and for special occasions. The leaves are beautiful, flat and pointed emerald needles that give a smooth taste and a subtle perfume, it is a very refined tea. Depending on the quality, the water temperature and length of infusion should be adjusted accordingly.