Juri's - The Olde Bakery Tea Shoppe named UK's Top Tea Place 2008
Juri's - The Olde Bakery Tea Shoppe in Winchcombe, Gloucestershire, is the winner of The Tea Guild's prestigious Top Tea Place 2008 Award. The Miyawaki family, owners of Juri's, were presented with a beautiful, specially commissioned stained glass window (created by tne artist Lou Spencer) by William Gorman, Executive Chairman of The UK Tea Council on Friday 4th April.
The UK Tea Council's "incognito" Tea Guild inspectors have taken tea in tearooms and hotels across Britain, to find the finest tea experience. The anonymous judges award points in fifteen different categories which include the variety and excellence of the teas offered, efficiency and knowledge of service, décor, hygiene and cleanliness, ambience, presentation skills and most importantly the choice and quality of teas served.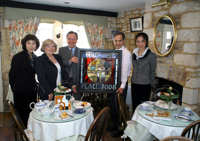 Juri's - The Olde Bakery Tea Shoppe is strongly influenced by the Miyawaki family's Japanese heritage and love of tea. As a result, judges were won over by their exceptional tea expertise and the warm charm of the staff. The perfectly brewed teas are complemented by the exquisite homemade cakes and scones created by Juri who is Cordon Bleu trained. Set in the picturesque heart of the Cotswolds, Juri's owners, Iwao and Junko Miyawaki and their daughter Juri aim to give every visitor a personal and memorable experience. Visitors to Juri's tearoom, which is located within a Grade 11 Listed Building, are guaranteed a warm welcome and a cosy retreat, where they can enjoy a delicious and relaxed afternoon tea.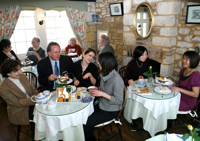 Commenting on Juri's - The Olde Bakery Tea Shoppe winning the coveted Top Tea Place 2008 award, Irene Gorman, Head of The Tea Guild, notes, "Located in the picturesque Cotswolds and set in the delightful village of Winchcombe, Juri's offers a truly special tea experience. This attractive tearoom with its pretty outdoor terrace is a must for all tea lovers to visit".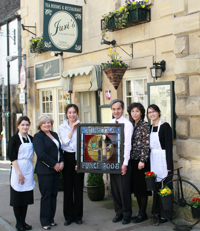 Commenting on winning the prestigious Top Tea Place 2008 award, Juri Miyawaki who runs Juri's - The Olde Bakery Tea Shoppe with her family, says: "The Top Tea Place 2008 award was very unexpected. I am thrilled and overwhelmed. This accolade is a very generous gesture.
As a family, we always dreamt of settling in the Cotswolds, having travelled all over the world. We love Winchcombe and take great pride and joy in running our tearoom. I often rise at 4am to bake for the day, as everything we serve is home-made."