OPM (labels and packaging) Group Ltd
The Colour Box
55 Gelderd Road
Leeds
lS12 6TG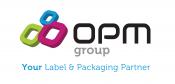 INTRODUCTION
The OPM (Labels & Packaging) Group manufactures Labels & flexible packaging.
Quality, service and innovation define OPM.
OPM offer consistent and Reliable Product Quality, Short Lead-Times / Speed-to-Market, Prompt, Responsive Service with a dedicated customer support team.
Fully equipped Esko Studio for artwork and repro file preparation.
A secure "smart" site with automated workflows, provides Full Traceability and Validation of Raw Material and Product.
Within a framework of Total Quality GMP Management, all of our products are produced to ISO 9001:2015, BRC/IoP Global Standard Food Packaging standards Grade AA and PS9000:2016 and are printed using Low Migration/ Food Grade Inks. 100% AVT Electronic Vision systems ensure only fully compliant products are supplied. We do this through understanding your markets and challenges, delivering innovation and new insights for your packaging to succeed