A Thirst For Empire - How Tea Shaped the Modern World by Erika Rappaport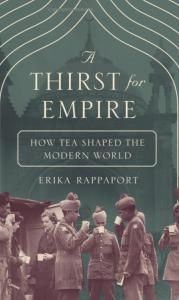 Article by: UKTIA
Monday 16th October 2017
This new, beautifully illustrated and expansive tome, published in time for Christmas 2017 is an absolute must for tea lovers.
This book takes a full and sweeping view of how a taste for tea set new labour standards, changes in land use and built a global economic network. The author, a historian of European culture, describes how men and women, through the tea industry, transformed Chinese tea culture and fostered the growth of African and South Asian plantations thus resulting in the transport of tea leaves to the tables and shops of Great Britain.
In this fascinating book Erika Rappaport describes how knowing the story of tea is to understand how tea has been one of the most popular commodities in the world, its cultural complexities and continuing influence over the centuries.
The author explains why between the seventeenth and twentieth centuries the boundaries of the tea industry and the British Empire overlapped but were never identical, and highlights the economic, political, and cultural forces that enabled the British Empire to dominate but never entirely control the worldwide production, trade, and consumption of tea.
Tea was among the earliest colonial industries in which merchants, planters, promoters, and retailers used imperial resources to pay for global advertising and political lobbying. The commercial model that tea inspired still exists and is vital for understanding how politics and publicity influence the international economy.
Published by Princeton University Press and available for purchase online and in good bookshops.