Our favourite mentions of tea in literature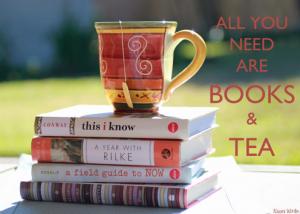 Article by: UKTIA
Friday 16th December 2016
Did you know that December 15th marks International Tea Day?
Sure, every day celebrates something... but for obvious reasons International Tea Day is close to our hearts.
Established in 2005, International Tea Day is celebrated annually on December 15 in tea producing countries like Sri Lanka, Nepal, Kenya, Malawi and Tanzania to increase awareness about the issues tea plantation workers face.
To celebrate, we have collated a just a few of our favourite mentions of tea in literature. Of course, there are thousands but here are some to inspire you to put the kettle on.
'I say let the world go to hell, but I should always have my tea.'
Notes from Underground by Fyodor Dostoyevsky
'"Take some more tea," the March Hare said to Alice, very earnestly.
"I've had nothing yet," Alice replied in an offended tone, "so I can't take more."
"You mean yo u can't take less," said the Hatter: "it's very e asy to take more than nothing." "N obody asked your opinion," said Alice."'
Alice in Wonderland by Lewis Carroll
'There are few hours in life more agreeable than the hour dedicated to the ceremony known as afternoon tea.'
The Portrait of a Lady by Henry James
'Surely everyone is aware of the divine pleasures which attend a wintry fireside; candles at four o'clock, warm hearthrugs, tea, a fair tea-maker, shutters closed, curtains flowing in ample draperies to the floor, whilst the wind and rain are raging audibly without.'
Confessions of an English Opium Eater by Thomas de Quincey
'As far as her mom was concerned, tea fixed everything. Have a cold? Have some tea. Broken bones? There's a tea for that too. Somewhere in her mother's pantry, Laurel suspected, was a box of tea that said, 'In case of Armageddon, steep three to five minutes'.
Illusions by Aprilynne Pike
'Okay, this is the wisdom. First, time spent on reconnaissanse is never wasted. Second, almost anything can be improved with the addition of bacon. And finally, there is no problem on Earth that can't be ameliorated by a hot bath and a cup of tea.'
Shades of Grey by Jasper Fforde
'A cup of tea would restore my normality'
Hitchhiker's Guide to the Galaxy by Douglas Adams
'Some people will tell you there is a great deal of poetry and fine sentiment in a chest of tea'
Letters and Social Aims by Ralph Waldo Emerson
'But indeed I would rather have nothing but tea'
Mansfield Park by Jane Austen
'Find yourself a cup of tea, the teapot is behind you. Now tell me about hundreds of things'
The Complete Works of Saki by Saki (HH Munro)
'The Chinese day it's better to be deprived of food for three days than tea for one'
A Thousand Splendid Suns' by Khaled Hosseini
'Surely a pretty woman never looks prettier than when making tea.'
Lady Audley's Secret by Mary Elizabeth Braddon
'I don't want tea, I want justice!'
Uncommon Criminals by Ally Carter
'In Britain, a cup of tea is the answer to every problem.
Fallen off your bicycle? Nice cup of tea.
Your house has been destroyed by a meteorite? Nice cup of tea and a biscuit.
Your entire family has been eaten by a Tyrannosaurus Rex that has travelled through a space/time portal? Nice cup of tea and a piece of cake. Possibly a savoury option would be welcome here too, for example a Scotch egg or a sausage roll.'
Mr Stink by David Walliams
'We had a kettle; we let it leak:
Our not repairing made it worse.
We haven't had any tea for a week...
The bottom is out of the Universe.'
The Collected Poems of Rudyard Kipling by Rudyard Kipling
'The proper, wise balancing of one's whole life may depend upon the feasibility of a cup of tea at an unusual hour.'
How to Live on 24 Hours a Day by Arnold Bennett
'My dear if you could give me a cup of tea to clear my muddle of a head I should better understand your affairs.'
Mrs Lirriper's Legacy by Charles Dickens
'Peter was not very well during the evening. His mother put him to bed, and made some chamomile tea: "One table-spoonful to be taken at bedtime.'
The Tale of Peter Rabbit by Beatrix Potter
'Because he was English and that's what the English do under stress: they drink tea.'
My Lady Jane by Cynthia Hand
'Oh, the English! They are always thinking of tea. They carry it by the kilogram, and they are so clumsy that they always pack it at the top.'
Where Angels Fear to Tread by E.M. Forster
Image credits:
1) Poetic Aperture