The 'coffee-ization of tea' is here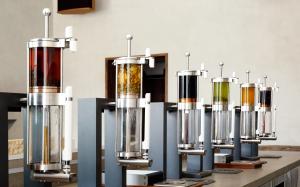 Article by: Christine Muhlke
Friday 2nd December 2016
Seasoned food writer and executive editor at foodie bible Bon Appétit Christine Muhlke wrote in American GQ this month about 'the coffee-ization of tea' and why your next cup of coffee should actually be a tea.
She reports that because cult coffee has gone mass-market now that you can get your once fancy frappuccino at a fast food burger joint, tea is having its moment as 'matcha replaces the macchiato'.
Muhlke notes that 'a bout a decade ago, when cafés and coffee roasters became obsessed with bean origin, ideal milk temperature, and mouthfeel, ordering coffee began to seem like a lifestyle choice. Now, we're seeing the same thing happen to tea, with an explosion of flavors and styles at a quality level that could give Sleepytime night terrors'. She name-checks US coffee powerhouses La Colombe and Intelligentsia who have rolled out their own lines of tea. While World Tea News credit another compelling argument for iced tea in coffee shops, where Teavana is now a $1-billion brand due largely to its availability in 16,000 of the 25,085 coffee shops Starbucks operates in 75 countries.
World Tea News also recalls its World Tea Expo several years ago at which during a discussion on 'Will Tea Ever be as Big as Coffee', former World Tea News president George Jage predicted May 2017 as the date tea sales would exceed coffee sales.
And the tea trends at the forefront of the movement? Matcha, 'the powdered favorite with a heavy dose of antioxidants and a concentrated grassy flavor', Oolong, 'on the rise thanks to its wine-like complexity and health halo', and fermented puerh, aged cakes which can cost hundreds of dollars.

Image Credits:
1) Tea Biz blog - article on Samovar Tea Bar