Find the Best Solutions to your Tea Cravings at the Coffee Shop Innovation Expo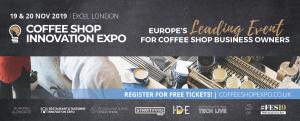 Article by: UKTIA
Wednesday 2nd October 2019
We are proud to announce that we are in partnership with Europe's leading event for tea-rooms, cafes and coffee shop business owners, the Coffee Shop Innovation Expo!
Hosted at London's ExCeL on the 19th & 20thNovember, the free-to-attend event showcases all the tools, techniques and solutions for business growth in the hot drinks sector!
This event is perfect for coffee and tea lovers alike, as the event will showcase the latest and most innovative products the hot beverage industry has to offer! Our array of incredible exhibitors will offer invaluable insight into some of the biggest brands in the drinks industry.
The range of exhibitors doesn't end there. An important new feature for 2019 is the Sustainability Trail which highlights exhibitors who are leading the way for a better and more sustainable environment. Some of the exhibitors include rCup and OneCup who provide reusable takeaway cups, both of which focus on 'closed-loop' design which contributes to the circular economy of recycling, reusing and reducing waste. They are here to help you keep your favourite brew warm in the mornings and help rid the world of single-use plastics.
For all this and more, your free ticket will give you access to over 250 amazing exhibitors, 150 insightful seminars, 1-2-1 business advice, invaluable new contacts, live demos and so much more. So whether you're simply looking to source the latest products & services, or yearning to revolutionise your business, there's no better place to be!
Better still, this year's instalment runs alongside 5 other industry-leading events, collectively forming #FES19, THE biggest business growth event for the world of food and drink.
This is definitely not an event you want to miss. So make sure you mark the 19th & 20th November in your calendar and register for your free tickets now!
We look forward to seeing you there!