The humble teabag revealed as one of the greatest inventions of all time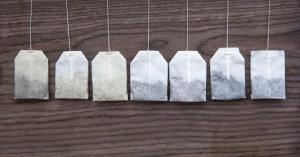 Article by: UKTIA
Friday 16th June 2017
Teabags appear in a top ten list of the greatest inventions of all time.
The study, released by English Heritage which lists its accolades in no particular order, names teabags alongside the wheel, the clock and penicillin.
English Heritage surveyed 2,000 people and asked them to name the most innovative products from human history. With 60 billion cups of tea drunk each year, it's no wonder that the teabag found its place.
Matt Thompson, head collections curator at English Heritage said, 'History has been built on ingenious inventions, big and small, and it's fascinating today to hear what people find ingenious. The teabag was invented by accident but has stood the test of time.'
The first teabags were created in 1908 when New York tea merchant Thomas Sullivan sent samples to his customers in small silken bags. It was only after they told him that the gauze was too fine that Sullivan realised they had placed the bags in their pots, rather than empty out the tea first. He then began refining the bags.
By the 1920s the teabag was being commercially produced in the US, complete with a length of string and tab. Little has changed since, apart from some now being round or pyramid shaped.
The oldest invention on the list is the wheel, which was used on carts as far back as 3500BC and is thought to have been part of potters' equipment before that.
English Heritage has asked visitors to vote for their favourite invention from the top ten. The charity is staging a nationwide exhibition, called Ingenious!, featuring some of the 100,000 artefacts it holds at more than 400 locations.
History's Top Ten
Teabags
The wheel
The fridge
Sewers
The plough
Penicillin
The internet
Armour
Light bulbs
The clock
Image credits:
livestrong.com