World Health Organisation encourage tea for health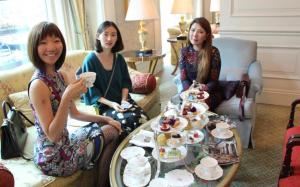 Article by: World Tea News
Tuesday 19th September 2017
The World Health Organisation (WHO) has called upon the tea industry to focus on the health benefits of tea to attract a younger generation.
The appeal was made last month when the Inter-Governmental Group on tea under the Food and Agricultural Organisation (FAO IGG) of the UN met in Colombo.
Tea is the world's second most popular beverage after water. Production is expanding. Tea is now grown in more than 50 regions and consumed in 160 countries. Approximately three billion people drink tea, but the majority of them are ageing, thus inspiring marketing efforts towards youth.
The UN intends to distribute information on the health benefits of tea, one of the few natural beverages in the world that does not contain salt, fat or any other high calorie substance. Tea contains more than 450 organic compounds, and more than 15 inorganic minerals. Most components boost health and aid in disease prevention.
"Today, people are pursuing better health and more natural foods, so there will be great space for the tea market. To promote developments in the tea industry, more investigation and research are required to be undertaken to identify consumer demands and develop the right products," the report states.
The group also called for development of new products to meet the diverse demands of youth.?The report said "efforts should be made to derive new products of tea, such as tea drinks, food, daily necessities, cosmetics, health products, crafts, and others to meet the diverse demands of mass consumption."
The report notes that in China, more and more young people are starting to drink tea. China is aging and young people are becoming the main force of social consumption. In addition, they are the primary driving force of the internet economy that is playing an increasingly important role in tea sales.
Source:
World Tea News
Image Credit:
The Telegraph